New Developments
New Apartment Residences Coming to Sedgefield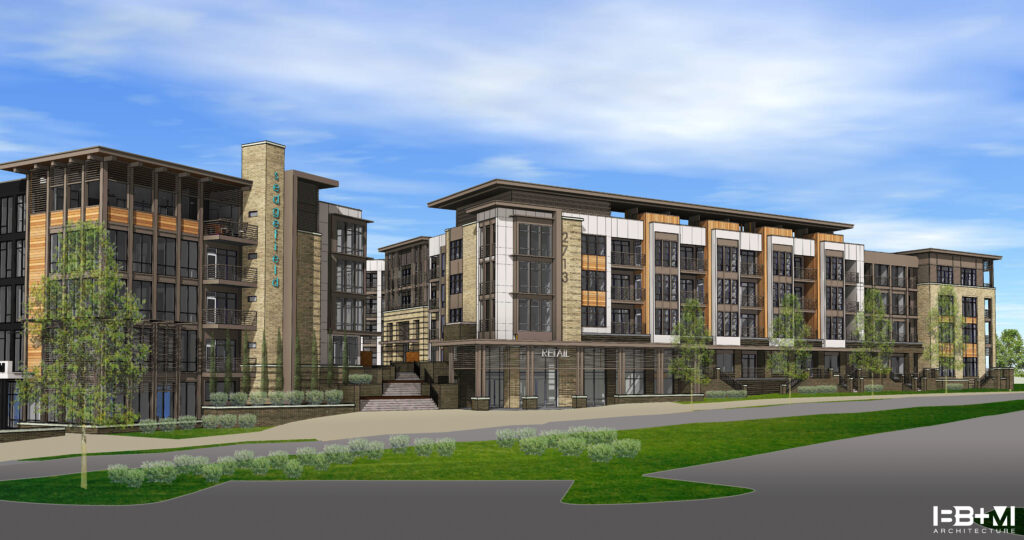 Marsh Properties maintains their devotion to high quality standards with the development of their newest community, comprised of 263 studio, one, and two bedroom apartment homes.  The state-of-the-art community encompasses 3 luxurious private courtyards, an inside/outside fitness center, a sky lounge and many other upscale amenity features.  Deep-rooted in the historic and charming Sedgefield neighborhood, the community connects to various retail, including a newly built Harris Teeter, and is conveniently positioned less than a quarter mile to the light rail station. Construction will begin in 2018 and is aimed for completion mid-2020.
Sedgefield Retail/Shopping
The trendy urban neighborhoods of South End and Dilworth are bustling with new development and revitalization of aging structures, resulting in a rapidly expanding community. Marsh Properties has teamed with local real estate firm Aston Properties to redevelop the transcendent Sedgefield neighborhood that the Marsh family has maintained for over a century. Displaying a mid-century modern style, Sedgefield has already celebrated the grand opening of its anchor Harris Teeter, which originally opened its Harris Food Store here in 1952. The center will feature other retail and dining concepts such a Nekter Juice Bar, Holler and Dash, The Waterman and others to be announced soon. Marsh Properties is progressing with construction and will continue development of the 60 acres over the next decade to include multi-family residences, office space and additional retail along the South Boulevard streetscape.
Click here for the most up to date information about the Sedgefield redevelopment.
Sedgefield News
---
Strawberry Hill
The Strawberry Hill Shopping Village has stood as a landmark on the corner of Providence Road and Fairview Road/Sardis Road, drawing local residents from Myers Park, SouthPark and surrounding neighborhoods. Partnering with local real estate firm Merrifield Patrick Vermillion Properties, Marsh has begun construction on the redevelopment of this nearly 13-acre shopping village to include a pharmacy, Dunkin Donuts and trendsetting restaurants, such as El Felix and Nekter Juice Bar, and shops totaling 101,000 square feet of retail. In addition to the shopping and dining options, a designated CATS Park-n-Ride station will be included in the final project. While construction progresses rapidly, Marsh anticipates an opening of the Shopping Village in the 1st quarter of 2018.
Visit the Strawberry Hill Shopping Village website.
Strawberry Hill News